Chanel: From Egypt To Manhattan
文章導讀
Cleopatra and craftsmanship come together in a triumphant, powerful display of imagination and skill
敬請期待中文版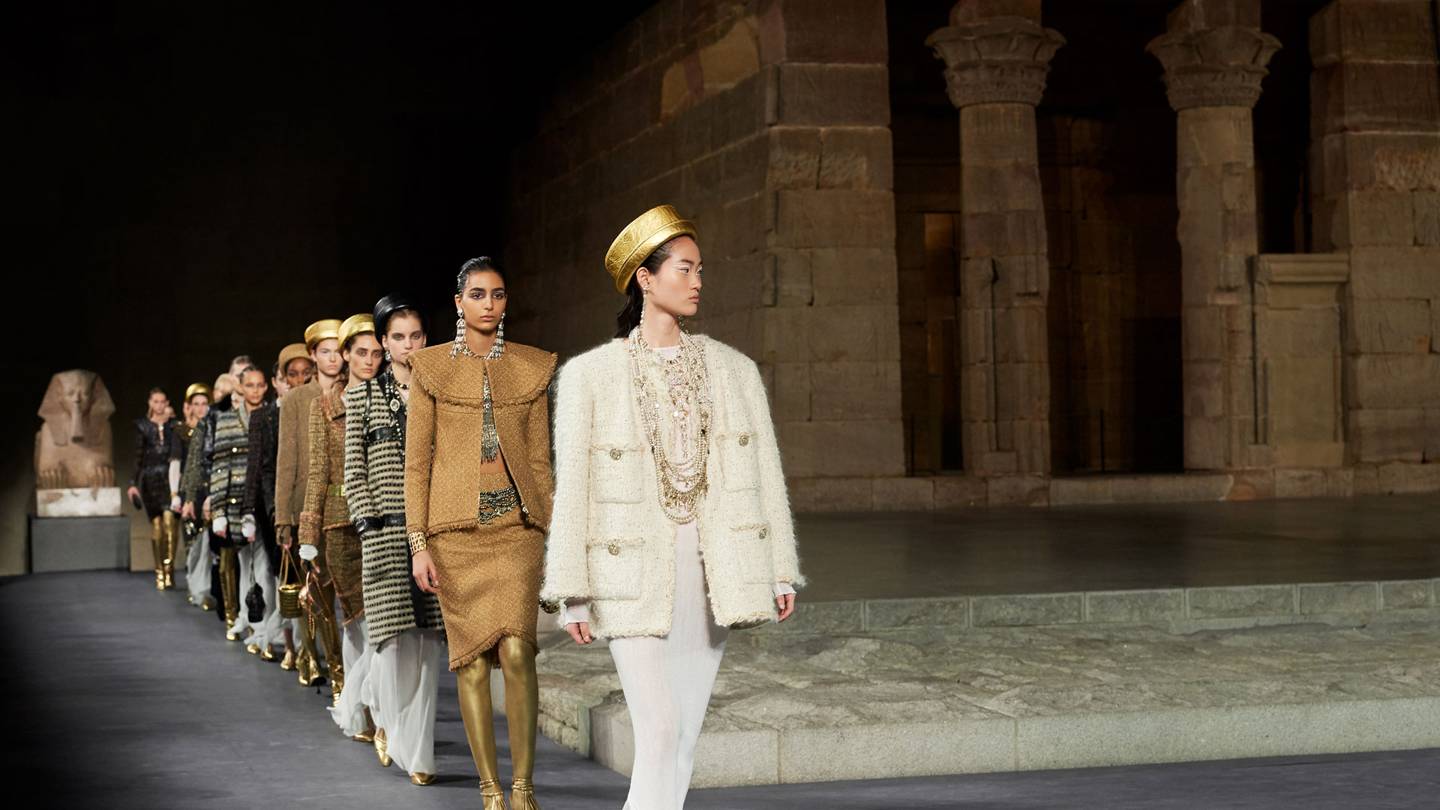 Karl Lagerfeld's collection for Chanel Pre-Fall 2019 paid homage both to New York and to ancient Egypt, and was presented – fittingly – in the Temple of Dendur at the Metropolitan Museum of Art in New York
Olivier Saillant
"A pyramid is the greatest work of minimalist art," said Karl Lagerfeld in the casual but erudite way he confronts his ever-changing vision of Chanel.
The show he sent out in New York was a triumph of imagination and craftsmanship. It was also witty and fun, as models with the eyes of Cleopatra and sinuous silhouettes clothed in Coco walked through the Temple of Dendur – the ancient Egyptian monument gifted to the Metropolitan Museum forty years ago.
It was as though the ancient love story of Isis and Osiris (played by rapper Pharrell Williams, head-to-toe in gold) had fused with modern sportswear and Chanel tweedy classics. Bringing ancient and modern together were gilded boots, golden stretch hose and pristine gauze skirts offering a faint outline of the models' legs.
"I didn't do research – I have no storyboard – it all comes from my mind, and so many books I once read," said Karl, who greeted the audience with Virginie Viard – the head of his Chanel studio – as he did for his previous ready-to-wear show in Paris. His mascot and godson, Hudson Kroenig, also took a bow, in golden head-and-boot-wear and a sweater patterned with ancient Egyptian figures.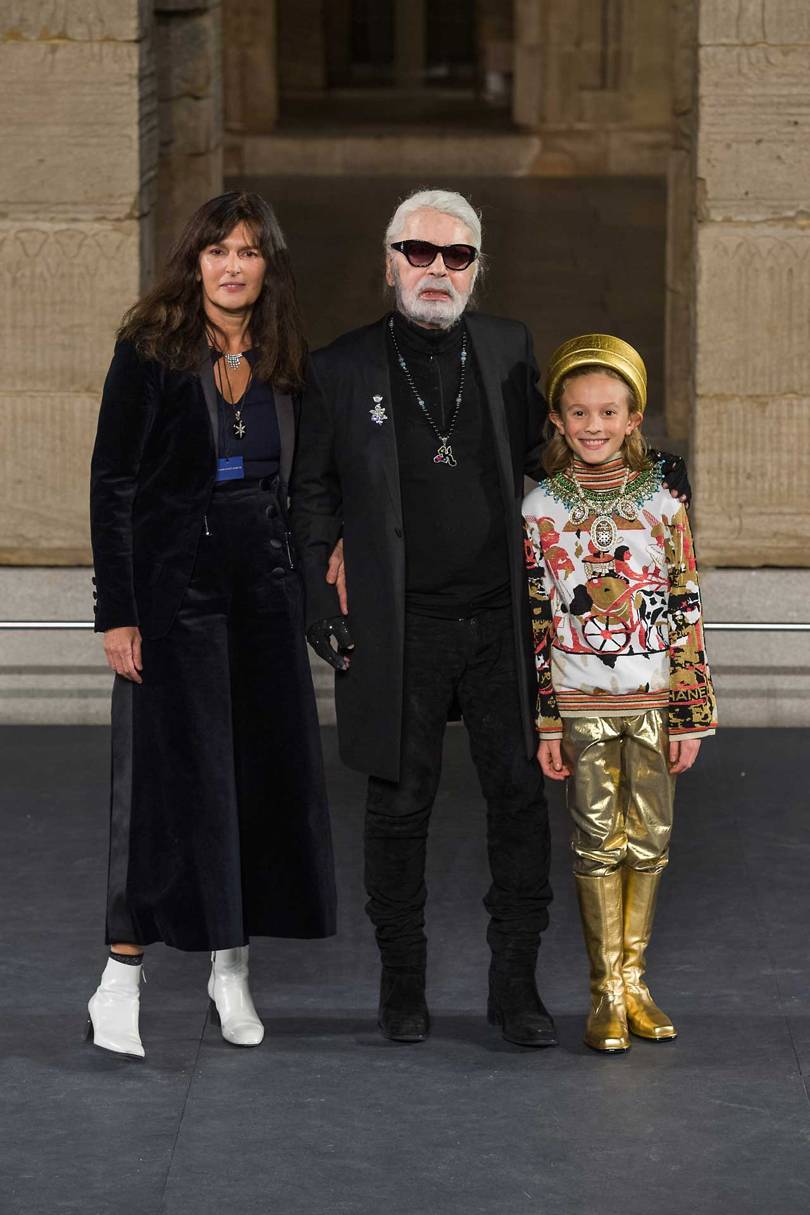 Karl Lagerfeld at the finale of his Pre-Fall collection for Chanel, with Virginie Viard – his head of studio – and his godson Hudson Kroenig
GoRunway
Behind the rivulets of accessories, including pseudo-ancient necklaces and pyramid-shaped handbags, were many stories – not of a historic past – but of now. The prime purpose of the annual Chanel end-of-year collection is to celebrate the 'Métiers d'Art' – the group of knitters, hatters, shoe makers, feather workers, and jewellers that Chanel brought together in the new millennium under the banner of 'Par affection', meaning a loving embrace to encompass the financial protection of ancient skills. Bruno Pavlovsky, Chanel's President of Fashion, has already said that a new Paris home for the different artisans is under construction.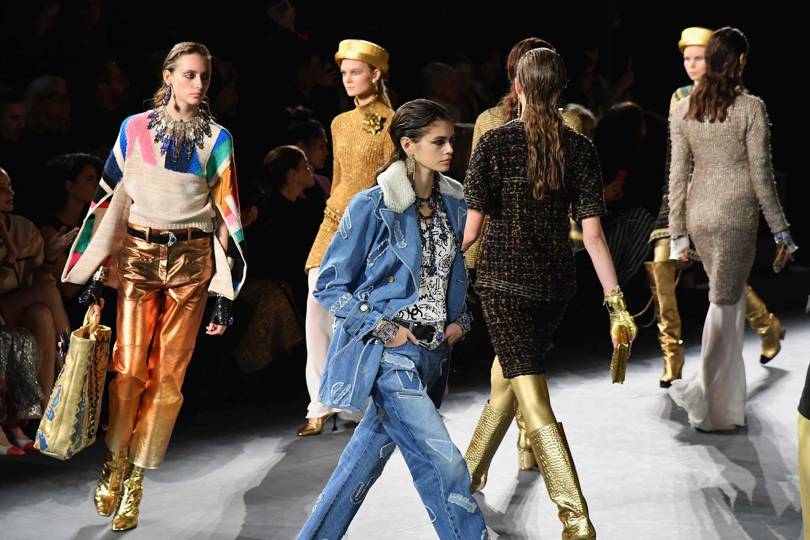 The theme may have been ancient Egypt, but Karl Lagerfeld's boundless imagination produced looks that were decidedly fresh, upbeat and modern
Getty
Unlike any other luxury company's high-end brand, this mid-season show is therefore designed to present the skills of specific hand-workers. In the past, this has often been difficult to grasp from a big runway show. But the clarity of cut, the strength of materials and obvious skills made this Métiers d'Arts collection specific – especially in the powerful jewellery, which included replicas of scarabs as decoration or even as the clasp of a clutch bag. Guests Penelope Cruz and Blake Lively were drooling over the accessories backstage.
It is so challenging in fashion to refer to the past without turning a show into a theatrical performance and the clothes into costume. Karl's imagination included the modern artworks of French painter and graffiti artist Cyril Kongo, with patterns mashing up ancient and current; while references to the Italian Memphis group, whose furniture the designer collected in the 1980s, also made inroads on the collection. The designer's ability to mix modern artists and historic references into an apparently classic Chanel tweedy outfit is unparalleled in the fashion world.
Karl Lagerfeld's Pre-Fall collection for Chanel also included the work of French artist Cyril Kongo
GoRunway
Yet in other ways, times are changing. Couture designers cannot stand still in the face of modern movements. An official statement from Bruno Pavlovsky this week announced that Chanel will no longer use any exotic skins, stamping on the couture house a trend that is already evident in ready-to-wear. This anti-fur, anti-exotic leather move has been active in the United States, and must therefore have been considered a good place for the announcement.
But why was New York selected as the platform for this year's Métiers d'Art show, which has toured the world wherever there are connections with either Karl or Coco? Last year, the show went to Karl's birthplace in Germany's Hamburg.
The ingenious answer for the choice of America was that it was the first country outside France to welcome the work of Coco Chanel with open arms. If the company wanted an example of early international connections, New York was a perfect place to choose. And for Karl there were other references, to a time when the discovery of the tomb of Tutanhkhamun in the 1920s set off a wave of Egyptomania, traced so powerfully in the arts and in Manhattan's architecture, such as the Chrysler building and other Art Deco skyscrapers.
Karl's genius is to wear his formidable knowledge lightly, and to apply it as subtly as those wafting chiffon underskirts.
In this gleaming Métiers d'Arts collection, both the designer and Chanel struck gold.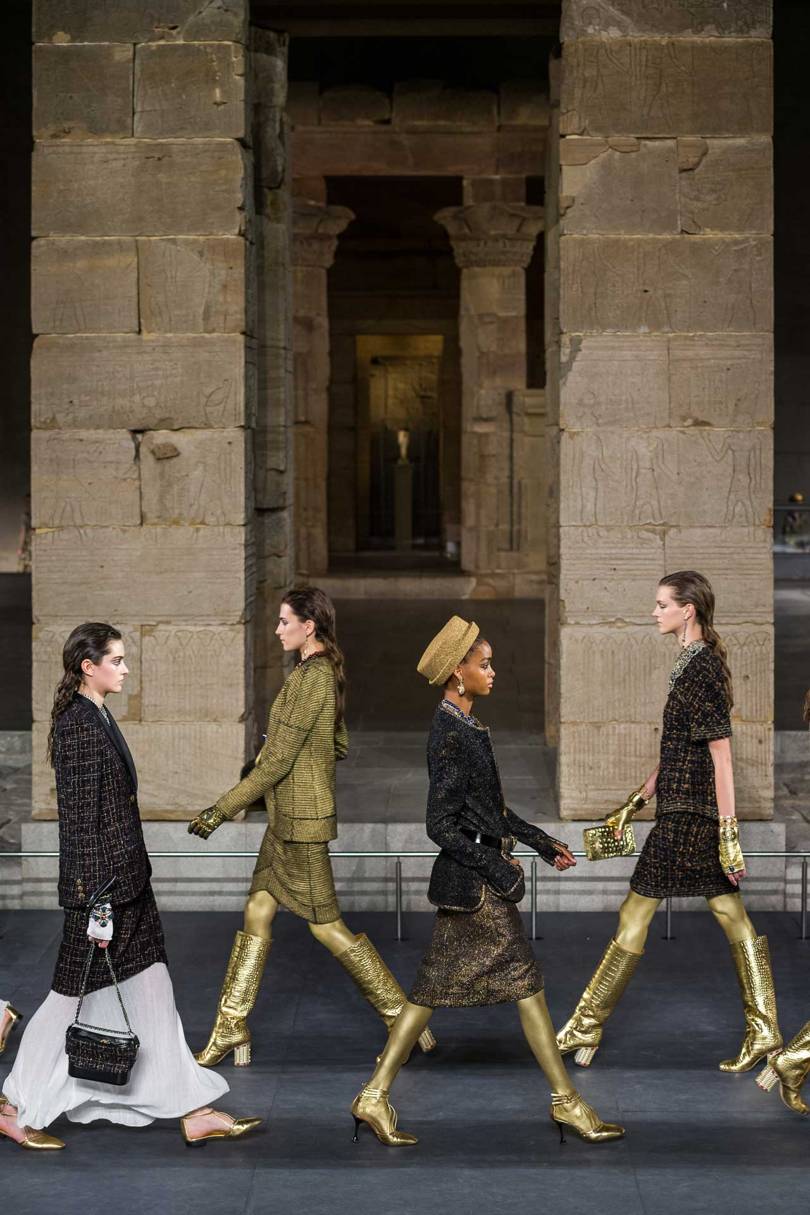 Chanel's models parade past the Temple of Dendur at the Metropolitan Museum of Art in New York
GoRunway
轉載聲明
本內容系VOGUE時尚網原創或經官方授權編譯轉載,嚴禁以任何形式或方法轉載或使用,違者追究法律責任。
將本文分享到
你可能還會喜歡
更多相關網站內容